Day 1: 24.10.05
went to sch todae in the morning..and guess wad..?? together with our class and mm..the total were onli 12 gurls went to sch...lolls..!! but overrall..me and sandy arhhs..couldn't realli concentrate..as we were too hyper going to chalet to meet them le..!! wheeehheeehee..!!
btw, todae ish my mama bday..!! celebrated wif her ytd le..i bought her a bday cake...hahs..!! though its just a simple one...yepx..!! wanna wish her a HAPPY BIRTHDAY!!
ok back to the subject...actually me and sandy motive to go to sch becos of mt lessons..becos its gonna be our last day of attending mt lesson loo..!! but in the end...though we didnt go..cos god told us not to go by gibing us signs..noe how..?? we kept on flipping coins..deciding whether to go for mt lessons or not..and guess wad..?? its a miracle..whenever we throw the coins..it always go to tail..or head...if we decide on which side not to go for mt lessons...99% turn out to be notx...miracle rite..?? after mt..was eng lessons...it was funn..!! mr sng told us some experience he had...and finally..!! sch ends..!! went home with ah ma..and i reached home..
mama was at home..she cooked for me noodle..den i packed my stuffs...bathe and went off..on my way to chalet..!! so excited..!! when i reached dere..shi hui, cheryl and gen escort me to the room..i realised dat..the room decoration changed..and also for the bbq pit as well..it turned out to be nicer and neater..yepx..!! i `lubb the way it is now...the fridge has upgraded to bigger one..the toilet has change to a nicer one...everything has change for the better..whee~!! was in the room..chatting wif them......and not long after...went for bowling..!! we seriously had a great tyme...and had some pictures here though..
how do u bowl?? let me teach `euu some steps..!! haha..i noe it sound kinda lame..but i have the movements...
1st: take ur suitable weight ball for ur hand to hold..
2nd: when its ur turn, wait for all the pins to settle and be ready...
3rd: take ur ball
4th: step onto the land
5th: look at the dots..and aim for the pins...
6th: when u are ready, walk straight..and roll the ball straight...!!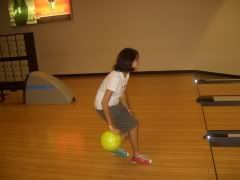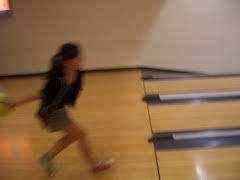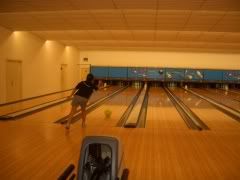 tala..!! wanna see how `euu score in the end...stand dere and look..!!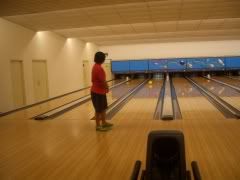 did `euu do a ggd job...??? lolls..
during the second round of the game..everyone was getting high..due to our budget...we decided not to continue except huiying and cheryl..hahas..!! but we still take turns to bowl...
dis is cheryl and suzanna..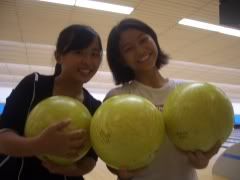 the macho lady..!!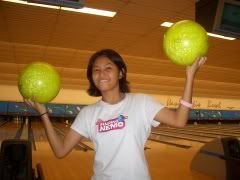 just then, cheryl was getting bored..and she tried a new way..but turning her body..facing the pins backwards..and roll the ball..unfortuantely, it didnt work..!! =(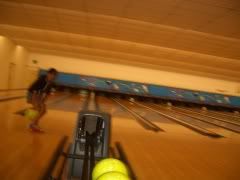 neXt..!! su's turn...trying to act abit gu niang..!!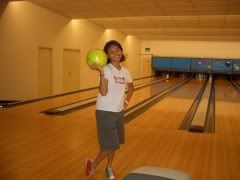 now!! hui ying's turn..she tried another method by kicking the ball to the pins..for fun..!! haha..!! however it failed too...and in the end..she hurt her leg...so ppl..!! neber ever try to "mo fang" her okayss..?? `euu will end up hurting urself..=P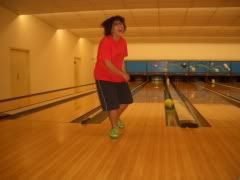 2nd game is over..and we decided to take a grp photo..by asking one of the workers working dere...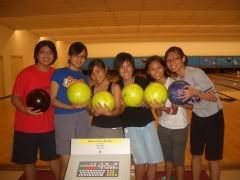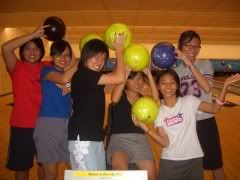 overall for the bowling trip..i did a combi photo..!! as a rememberance..!!
just a simple one..=)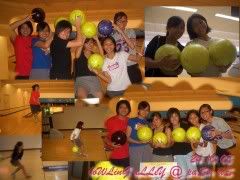 and after taking, we went to have dinner..stomach was growling lyke mad..!! the food dere was lousy manx..didnt realli had the taste..so we quickly eat and went back to the room to watch tvv..!! wahahahhaa..~!!
abt 9pm or 10pm...went to prepare the bbq stuff for day 2...had a great tyme...though it was tiring though..and cheryl's family came to help out too...and we did it finish sucessfully..!! oh yea..!!
while clearing the stuffs..!! dis cheryl go splash water at me..and this was my reaction..okayss..!! i noe i look kinda retarded and toot..!!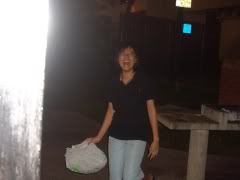 oh ...i'm so tired..!! carrying bucket of water in..!!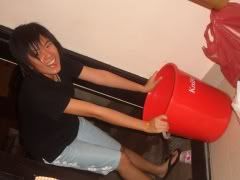 finally..!! everything is done..and we get to rest..!! den while waiting for one another to bathe finish, wE tooK pIcx..!!
sUzannA look kinda eRr..?? retarded?? aha..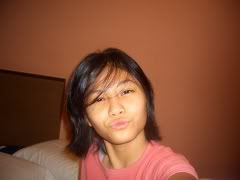 i don wan to live anymore..!! i am leaving..!! bye..!!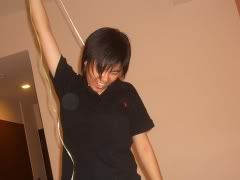 sexy guRL ehHs..??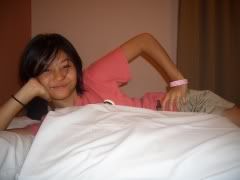 happie..?? sad..?? angry..??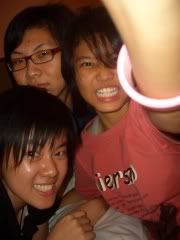 okays..!! the floor is getting tooo filty..! its time to clean up the mess..!! chiong arhhs..!!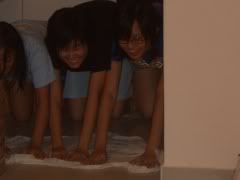 su: arhhS..!! i'm beinG tied up..!!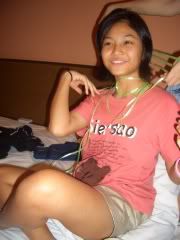 ohmy goshhh..!! "mummy" su..?? jian gui arhhs.!!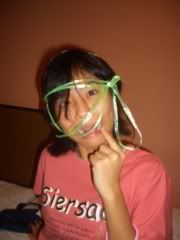 dennn..mie and my two dotters..went to take photos in front of the mirror..i `lubb dis pic to bitx manx..!!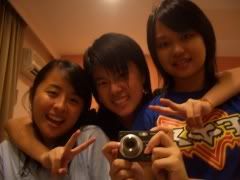 phoTogenic gurls..!! click click snap it..!!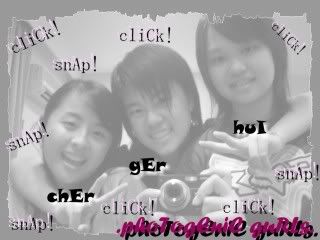 all pics are done..!! ok..time to go and bathe..and turn in early.....the time is already past 1am+++..day two gotta wake up early..!!
________________________________________________________
Day 2:
woke up around 8am plus..didnt realli slp...and i was trying to slp..cos was lyke too excited..hahas..!! denn dey were lyke.."okay larhhs..!! don disturb ker le can tell she is realli beri tired.." den i continue to slp..another 1 hr more..and den i woke up..dey were watch a sound of music bahhs..if i'm not wrong..its a nice show..
9am..!! baowei came...so early canx..?? we were lyke..why did `euu come so early..bbq haven even start...and she said she came early becos of sandy..den we told her sae..she coming early becos she is gonna help us with the bbq stuffs..haisyoo...dis woman arhhs...but most of us ignore her larhhs..i noe its kinda bad...but just cannot take it lorrs..
next..!! i went to wash up and ate cup noodles for breakfast..waited for cheryl and aiyue as well as hui ying and the rest to come back...whee.~!! and dey are back..we went for cycling..oh yeahh..!! had a great tyme..and sandy learnt how to cycle...but not bad..heee.~!! she learnt abit by bit le..just lyke me.!!keke..during the ending of the tyme of cycling..cheryl hurt her leg..haishh..!! everytime go out chalet or camp with us..she confirm got injuries...and i was the one cleaning her injuries..see her screaming out of pain arhhs..haisyoo..so xin tong..!! my dotter worrs...den i don dare to clean more..otherwise she gonna faint..it was kinda deep cut larhhs...den poor sandy and huiying..piggyback her back to the chalet..de way i bandaged for her lyke beri serious lyke dat...
on our way back to the chalet..luckily a man working at downtown east came to ask and asked wad happen to cheryl..den we told her dat she injured her leg and sprained her ankle..den he was lyke.."wahh..!! who wrapped for her..??" den all of dem point at me..!! i was lyke..."uh-oh..!! is dere anything wrong"..haha.!! den he said.."hmmX.!! not bad..!!" den i "phew..!!' keke.!! he thought was a serious one..budden in the end was a kinda small cut..or shld i sae medium cut.?? hmmX.!! anws..den he turn the wound for her lorrs...cheryl was screaming for pain..can tell she was shivering..poor gurl..!! after all done..!! we went back to the chalet..and den have a gd rest...
look wad dey done to su..!!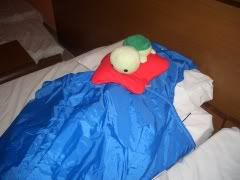 2pm we reached the chalet room..den was preparing all the bbq stuffs..look how busy we were..as it was raining heavily..we decided to do outside..in the chalet..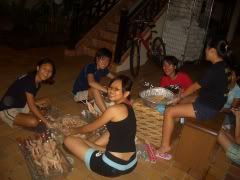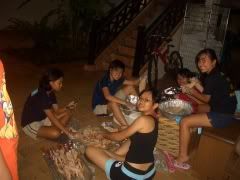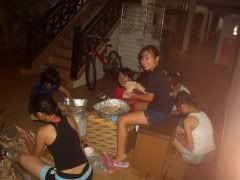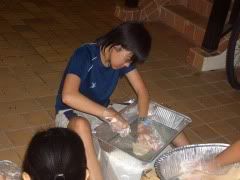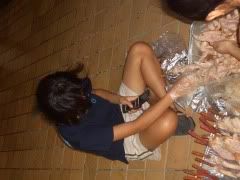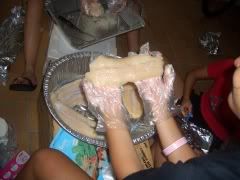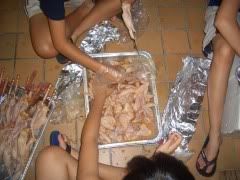 su :the chicken..!! i cant wait anymore..!! i gonna eat it..!!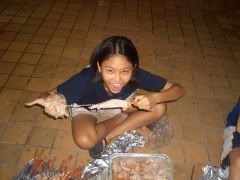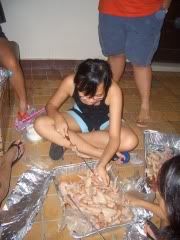 su: lalala..!!
using corn as her microphone...-_-"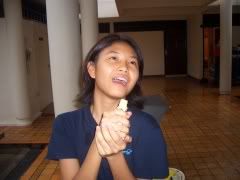 its 5pm..!! bbq starts..!! it was raining..it started drizzling..and den it turning heavier..as we want to start the fire..we do not want to gib up..so it the end..!! dey did dis..look how adorable dey are..!! haha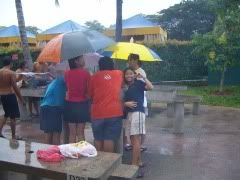 miss umbrella..!!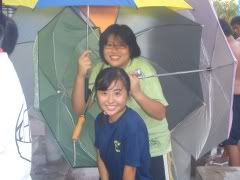 as the rain didnt stop..me and cheryl told su and hui to pray to god to stop the rain..and god blessed us..!! thank god man..!! otherwise we cannot do our bbq le..and we saw rainbow..!!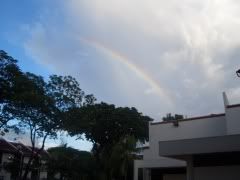 isnt it beautiful..?? hardly can see it manx..
there were a grp of guys...damn idiotic..was trying to compete wif us.."see who start the fire first..!!" den we "okay..!!" haha..!! budden in the end we loose larhh..cos of e rain..keke..!! at first we won..den becos the rain came again..and we lost..haisya..but i dont care larhhs..doesnt matter..and in the end...hui's church fren came to start the fire in the end..
while waiting..me, ah ma, xiaomei and dotter cheryl went out for awalk for awhile..cos we feel awkard...so went walk walk..and saw dis grp of guys...performing instruments..so cool..!! at first we didnt realli care larhh..until we walked one round..and we u-turn again and watched deir performance..!! we were the only grp clapping and cheering for them..dey were so happy..haha.!! den while playing..den came towards us and plae..aiyoo..!! so malu..budden still feel so honoured..!! heh heh..!! dey were beri friendly..and played a song specialy for us nehhs..!! so happie...oh gosh..!! we forgot to bring out my cam..me and ah ma ran back..and took the cam to take pics with them..!! keke...once in a life-time..wahaha...and luckily we were in time..=)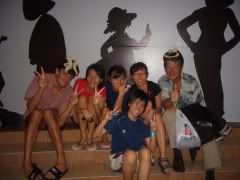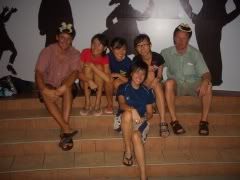 we had abit of communication difficulties..cos..!! dey were from russia..so dey didnt realli understand wad we were toking abt..till we do sign language..?? haha..!! and den dey went off to chinatown..to perform..whee..~!! yays..!! here comes my brps mates manx..dey came for bbq..me and ah ma went to find them while cheryl and ai yue went to buy some stuffs...
we had a gd chat..and was bbqing for them the food..had a great tyme manx..and we share the food wif each other worrs..nice ehhs..?? increase our bonding..!! den after dat dey went to plae xbox..while me and ah ma continuing bbqing..
its 10pm..and its tyme for them to go back le..!! not to forget..photos..!! me ask misa to take the photo for us..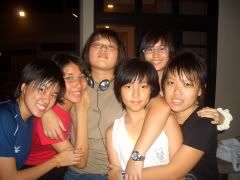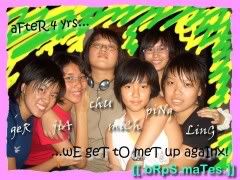 walked out with them..! not to forget..the bbq bill..!! haha!! pay money pls..?? den dey were lyke.." haishyo..!! almost "cheng gong"le..hahas..!! den i was lyke.."heh heh"...walked to them to bus stop..den walked back to chalet again...
whee..~!! den kelvin..my "brother"..!! surppose tocome at 10 plus..but becos of his work..had to work overtime..so in the end came at abt 1130pm instead..poor thing..cannot catch the last bus so he had to walk from mrt dere to here...xin ku ta le..!! =)..not bad..can xun bian exercise..keke.!!
suzanna and me went to meet him while sending ai yue off to his father's car..hmmX.!! den serve him some food lors..its raining again..poor thing..so in thend i helped him bring the food to the shelter..at the staircase dere..me and jia en..accompany him..and he stayed overnite...bo bian..!! no bus back le..so in the end..cannot leave him alone marhhs...so stay outside with him lorrs..somemore raining..so my frens asked him to slp inside the room lorrs..if not he beri poor thing..i kinda feel abit bad larhhs..
okayss..!! everyone bathe...!! chat chat..!! i was damntired...but surppose to tong till the next morning..all thanx to the movie..!! the incredibles...introduced by cheryl..!! who slept first..!! haha..!! den follwed by me..at first we were active cos we plae some games..den we were so hyper till we watched this movie..and in the end the survivor is jia en..!! clap clap..!! so now i noe..cannot watch movie in the late nite..otherwise i definately going to fall asleep..den brother gonna nag again..!! sae i pang seh him.!! sae wad watch sun rise..haha..!! but luckily neber promise him..=P...me tong till 5 am plus..den i Zzzzzzzzzzzz le..
_______________________________________________________
Day 3:
day passes so fast..and todae ish the last day of the chalet..everyone woke up early...and packed all our stuffs and went home by mrt...when i reached home..!! change and i BOMB!! on the bed..!! to my lala land..!! till 11pm..!! from 2pm till 11pm lehhs..!! song horrs..?? haha!! woke up 11pm just to ve my dinner... okayss..!! tml got sch..back to my lala land le..