arhhhs ! my blog skin is givin probs & now i haf to change to this blogskin .. imiss the old one..
=( ..
I am back from my chalet !! guess wad? i only had 6 hrs of slp for 3 days . 5 hrs of slp for the first nite and 1 hr of slp for the 2nd nite. mad right ? i dun normally haf my slp during chalets. chalet is a place for u to haf fun and not slp. if u haf ur slp during chalets den wads the point of hafing. wouldnt it be a boring one ? agree wid me ? heh !
on the first day , dad fetched me and jia en to pasir ris. it was pouring real heavily. reached there at 330pm . we were punctual ! however, being punctual wasnt a gd sign to us afterall. they were late. when we've reached, cheryl, aiyue were only at tiong. we haf to wait for another hr or so ? jess wld be late too due to rain. that gal simply just hate rain. she said she has changed bud i dun agree wid her on that. hahs ! sandy wld be reaching soon cos she stayed nearby. de tiu came at 4 plus with his worker and yays ! got the room key finally. we saved $20 for the chalet room. he treated us. i gave him the money but he just dun wanna accept it.thanks to him !
thunderstorm .. !! it was pouring heavily. the floor was slippery. me, sandy, jia en, aiyue and cheryl slowly walked to our room. hmms ! this room seems smaller than ours the last time we had. its understandable though. cos we are paying a cheap price ehhs ? =) . but its okay. as long as there's a room for us to slp. it doesnt matter. jess called me awhile later & i fetched her to the room. see ! i am such a good dotter ! =p. hard to find one like me. =X .
then, didi and aiyue went out to buy some stuffs. so left me, marmie, ah ma and dotter cheryl. guess wad we had ? it was so funn !! hahs. all of us went mad. me and marmie were actually "fighting" .. the story actually goes like dis... cheryl was actually checking how much jess brought for the chalet. cos we were under budget ? then, jess wanted to take back her bag cos she doesnt want her to see. as a mother of cheryl, i haf to protect her right ? so, i took the bag from cheryl and protected her. den , we started passing the bag to each other and jess was chasing for it ! hahas.we were luffing like hell. screams were loud. especially from jess.lolls ! she took a pillow after that and hit me. i was like , hahas ! okays ! here comes pillow fight ! bam
bam
bam
bam
!! I WON !! and then, this woman.. went to ah ma for help. aiyOOos. she looks so much like children when she seeked help from her. as a mother of jess, she has to help her right? so , 2 vs 2 ! chiong arhhs ! @#$$@##$%%#@@ !! from the floor to the bed.. den jess was snatching the bag from cheryl . i was pushing jess away. after that, jess was pushing cheryl down the bed and this dotter of mine hugged me so tightly that i fell down the bed too. both of us
bom
! hahs. all of us were luffing so loudly. stomachpains !! lolls. the scene was hilarious. it was a waste that we didnt took a video of it. otherwise its gonna be entertaining. lucky there was mattress on the floor. otherwise we wld haf injured ourselves.
marmie was so violent. she scratched my left arm. and now, i haf a scratch line there. it was bleeding abit though . but its alright la.
marmie ! time for u to cut ur nails. u VIOLENT WOMAN ! hahs .
went to cheers together to buy some tibits and drinks. cheryl bought acoholic drinks . heh heh ! i do admit i bought too. one nite and one breezer . jia en bought nite peach. =) . went to cashier and dis uncle ask us for ic . and we gave excuses. cheryl was surprised that he actually asked whr he didnt ask previously when she was wid didi. so we called didi for sos and she came and saved our lives. there were two gals behind us as well. these two gals followed us and produced the same excuses. we were like wth ! they asked a stranger for help. lolls !
okay ! backk to the room. rest for awhile. its time for dinner ! went to foodcourt. me, didi , nana and aiyue bought food for the rest for dinner. shi hui came in the evening. poor marmie wasnt feeling well so bought her hot soup and i didnt ask money back from her. treated her free dinner ! see i'm such a fillial dotter.
marmie,u shld be proud to ve me. bahahs !
we had pathetic dinner for the day. bought instant noodle to cook. it was so salty !! omg ! such torturing dinner. cheryl addded too much msg !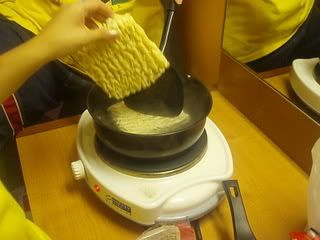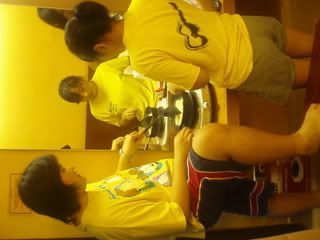 be prepared ! cos, the noodles looked disgusting ! hahas.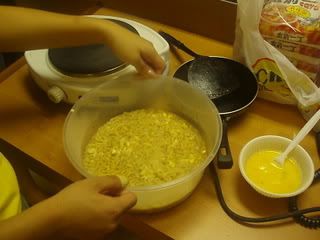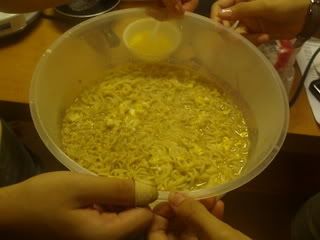 jess holding our instant noodles . we are eating this flavour ..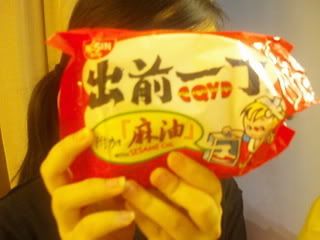 didi hafing her dumpling noodle :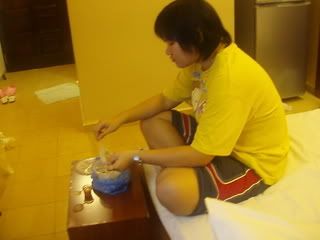 marmie and didi hafing their dinner :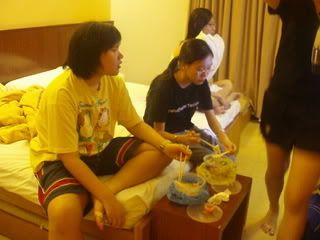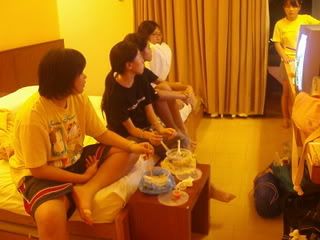 yays ! our noodles are finally ready..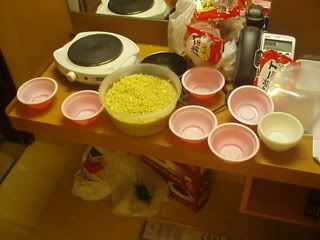 after eating, jia en came into the room and passed to jess two monkeys then she went out to meet her fren again. the monkeys are so cute ! hahs. see how happy marmie is when she received two cute monkeys ? just like her. anw, she is one of them. =P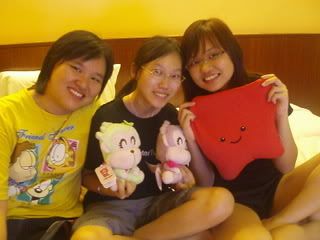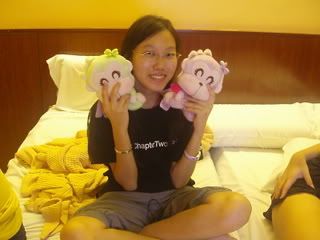 it was realli a boring start for the first day . we haf nth to do bud just stayed inside the room ? it was my first time feeling so bored in the chalet. then slowly we found smth to do and we crapped kinda bit. didi , cheryl and shi hui wanna go out for a walk. some of us were lazy . so we stayed in the room as we wanna watch tv. we were addicted to the show we are watching. hahs ! these stupid women took out the room key and all our powers were switched off. nana and ai yue ran out to chase them for the key. they were running round the block larhhhs . finally got it ! they ran back to the room and we planned to take revenge. lolls !
the plan was like dis. all of us will pretend that we are not in the room. when they knock , we will scare them by hafing jess to become sadako. using the white blanket to cover herself and let her hair down .. standing by the back door there and use the touch light to shine her face. then the 3 of us will make noises ! hahs. it was funni . we were prepared for it. while waiting for their arrival , we took some pics together ..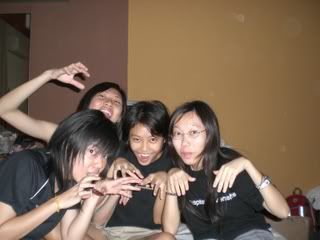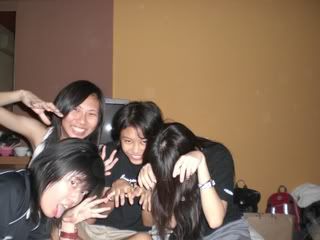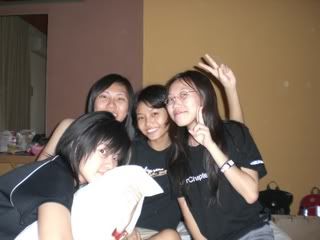 we looked kinda stupid.. i noe. bud we had lotsa fun ! hahs. however, it wasnt a success cos they were taking a long time. so, we decided to take a stroll outside. walking round swimming pool .. etc .. phone rang and they are back. we dont wanna tell them whr are we. we dun wanna let them enter the room that fast yet . so, we told them we were far away and we cant go back to personally pass them the key. bud cheryl's dad was present there as well. so we haf no choice but to head back to the room. =( .. phew ! luckily we didnt scare them. otherwise, if cheryl's dad saw us like dis. we wld definately get scolding from him. hahas !
it was realli nice of them to haf bought us food. i didnt eat though . i wasnt hungry nor did i haf the appetite to eat. then we began marinating the chickens together. look how frozen the chicken fillet was ? hahas. it has a gun shape !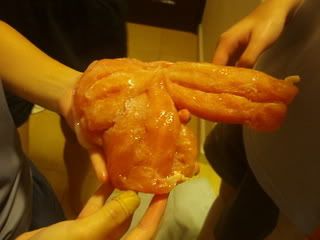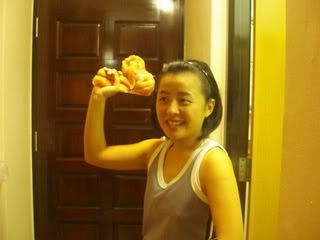 BIANG !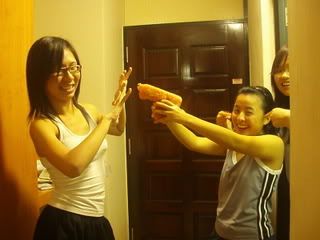 tralalas ~
all slept early for the day . around 12plus cos they wanna go wild wild wet the next day as there were free tickets . i was bored. jess and jia en went out. sandy went home. the 3 of them went to sleep. i was planning to go out for a stroll by myself. felt lonely out of the sudden. ok larh ! i was feeling kinda emo .. then, jess and jia en came back . then, me and jia en went out to the beach to feel the breeze . it was real relaxing . jess wasnt feeling well too. so she turned in early as well. though it was cold at the beach .. bud i controlled. i dun wanna leave as yet . jia en was chatting on the phone. so i was sitting alone on the sand . thinking .
saw a couple quite a distant from us& i started to miss dar. if only he came to find me. how nice wld it be? able to take a stroll down the beach, holding hands. enjoying the sea view. putting his arms round me when sitting down . arhs ! i wld feel so loved . sadly, he didnt came down for the two days as he was busy and gotta visit doc the next day due to his hand injury. so its best to turn in early barhs. oh well .
dis jia en gave me a short surprise by drawing heartshape on the sandy and wrote my name as well. actually hers and mine. showing her love to me. i was like, -_- " .. hahs ! it was beautiful. wanted to take a pic of it, however it was too dark. =( ..
thanks darling for ur mini surprise
. lolls. headed back to the room at 3 plus. bathe. found out that all of them woke up, saying that they couldnt slp. hahs ! so, we went out of the room. only shi hui was the only one sleepy so soundly. she was dead tired. we ate tibits in the middle of the nite. lolls ! and was talking, crapping away till 4 plus, went back to the room as there were too many mosquitos around. i lied on the bed . suddenly, i started feeling terrible. it wasnt sick feeling but emotional sad . i heard jess crying . see her being so hurt like dis, it hurts me as well. though she was crying in jia en's arm, i was wishing that she would cry in my arms as well.why must dat jerk hurt her so much?cant he just simply leave her alone ? time and time again.. she's been tearing for him so badly. she couldnt forget him . i just hate it sometimes. i just hate to see my frens cry espeically close ones. cos it hurts me . i teared abit . i could not turn in as i got too worried for her. i wanted to bring her out. bud jia en was wid her. so i just silently keep it to myself for the moment. hearing her crying so badly under the blanket , i could not see further . i asked myself, if i shld go out or not . so dat i would not feel so heartbroken and be alone for the moment. i made a final decision after awhile, i decided to leave the room alone. cheryl woke up, asking me whr i wanna go . she said she wanna join me too. ai yue came along as well. it was 6 plus at that time. went to the beach to watch sunrise. however, we did not manage to cos the sun was rising at the other end. so it's impossible to see sunrise from here. oh well, we head back to the room at 7 plus. jess was finally aslp. didi was here. they went to change and went out to play. while me, jia en and jess were left in the room. i finally got myself to slp fr 5hrs till they are back.
2nd day , jess went back in the morning. i was hoping that she wld feel better after crying so much for the previous nite. we went for cycling in the afternoon. its been so long i last cycled. i almost loose my balance but i got it back ! cycled for an hr. and the other hr, we taught sandy and ai yue how to cycle.
during the first hr, the 3 of us actually got lost wid the rest. so, we went our own way. lolls !
our 3 bikes :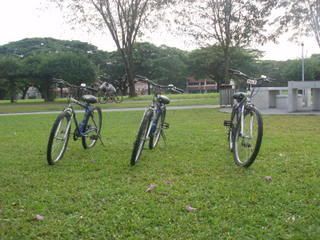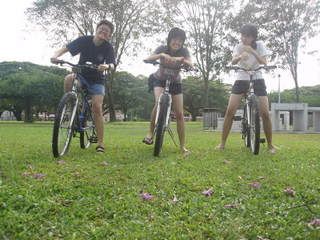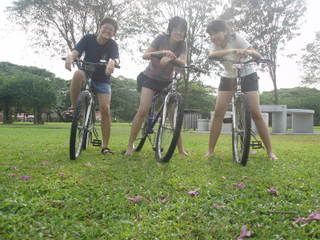 the sea view :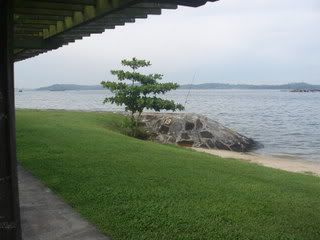 3 of us :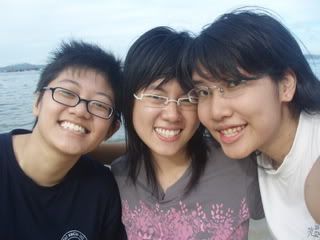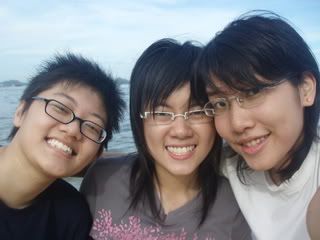 jia en and minnie :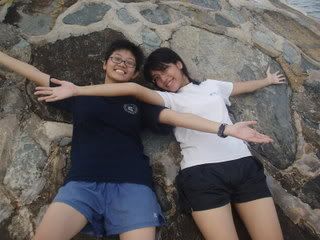 i drew a heart for dar ! hahs. i noe it looks ugly cos it was a quick one.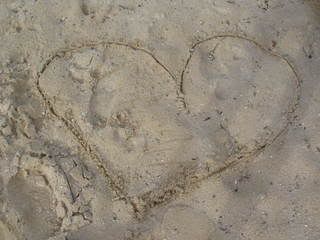 i
LOVE
you !
then darling drew one for me too. =) ..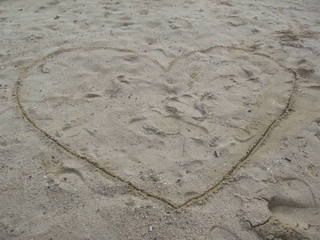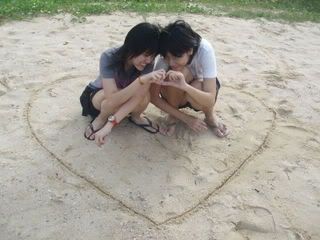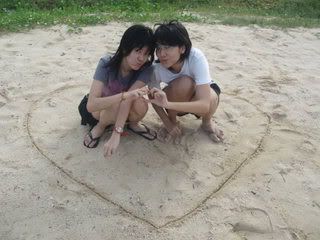 if only me and dar fit inside.
SO PERFECT !
hahs. next time barhs. =) ..
getting rdy to set off after our break & find the rest to return our bike :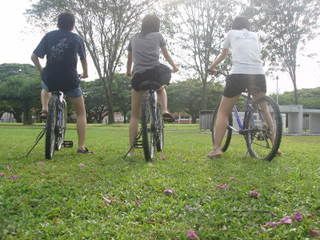 we reached the bike kiosk and returned our bike.nana and cheryl taught ai yue while me, minnie , en and sandy's younger sis taught her how to cycle. it was realli tiring okays ?!! bud fun. hahas. becos of her, i fed the mosquitoand had 13 bites on my leg ! it was worth it afterall cos she knows how to cycle abit already . yeah yeah yeahs !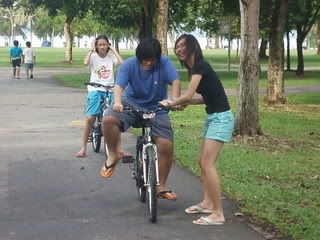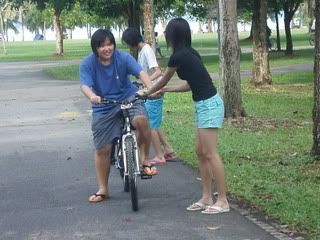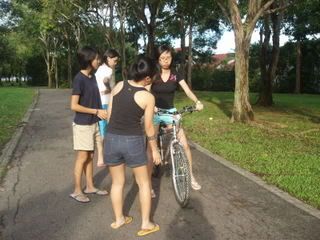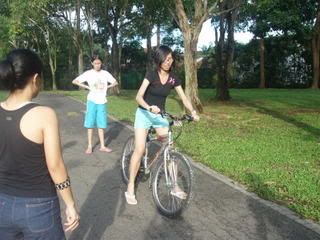 went back to the room at 6 plus to haf our bbq session. helped out a little and went back to the room.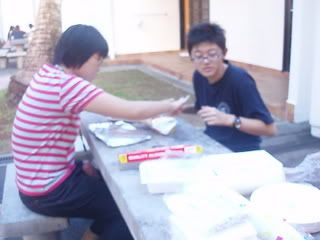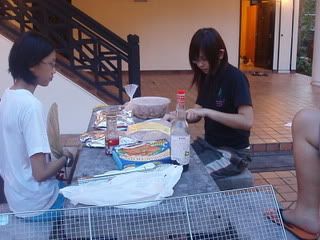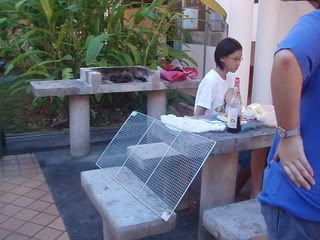 for this, we actually wanted to take pictures of the sparks. it was beautiful when uncle fan it. sadly, it was gone after awhile. i was too late. =( ..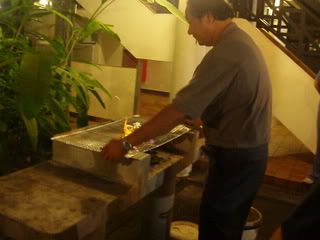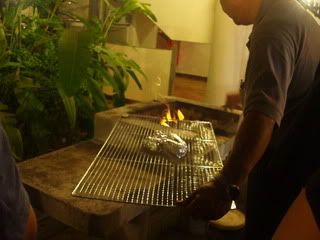 i had the same feeling as sandy. i wasnt in the mood of bbqing. i didnt ate much either . jess was back , however she wasnt well again . wanted to feed her for dinner bud i was shy. hahs ! so didnt manage to in the end. lolls ! didi's family came to help . minnie and jermain came to join us for bbq as well. it was getting late.. slowly, one by one went home and left the gals who are staying overnite. all of us wasnt planning to slp. however, nana and jess knocked out. lolls ! the rest of us went outside . i did nt play zhong zhi mi ma wid them as i wasnt feeling well. those who got that number wld haf to drink a cup of alcohol. we were trying to finish the bottle. 3 bottles. 2 nites and one vodka. previously, i drank a bottle of breezer already.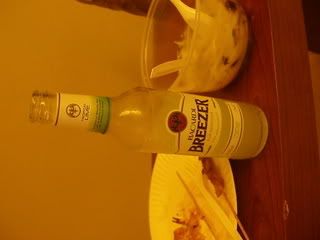 i dun wanna drink too much. went to take a nap while waiting for them to bathe finish as i wasnt feeling realli well . this jia en actually took a pic of me sleeping. i look ugly i noe ! dun puke. hahs !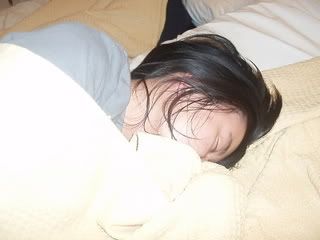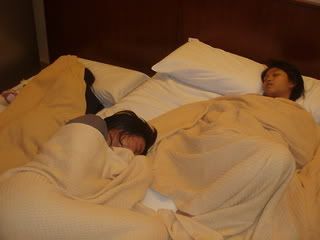 felt much better after my nap. took my bathe and found them outside. it was realli funni seeing them play. as ai yue was the first timer for drinking, she wasnt kinda drunk after gotting 3 times. hahs ! her whole face blush like hell. cheryl was flushing red as well as she drank the most. that gal is some sort of heavy drinker. she's been drinking the whole day . my god !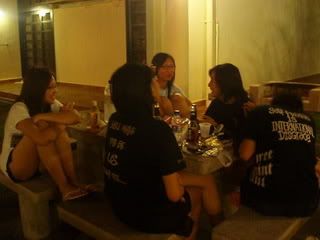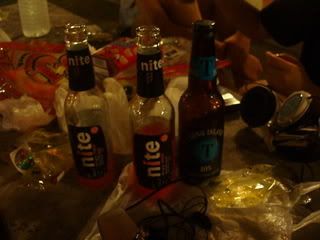 while walking back to the room, ai yue couldnt steady herself. all of us were luffing at her. hahs. minnie was guiding her back to the room. poor gal.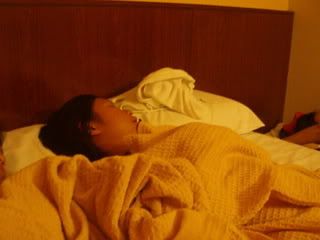 haish ! again, i saw jess crying again.. she wasnt getting any better. jia en went to console her again . they haf been asking " why is jess so cute that she needs jia en to hug her to slp ".. i was joking wid them saying " becos, jess needs motherly love ! " .. lolls. they were luffing away. went to haf a walk to cheryl at pasir ris park. crapping away.. cheryl was talking rubbish while walking on the way as she was abit tipsy but awake after awhile. both of us went to find a seat and sit down. enjoying the scenary of stars. it was beautiful ..
the nite view :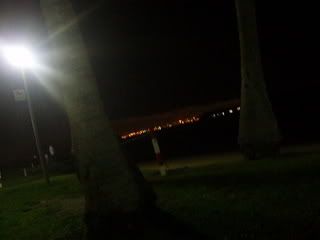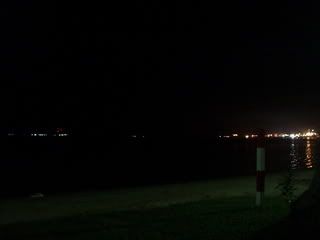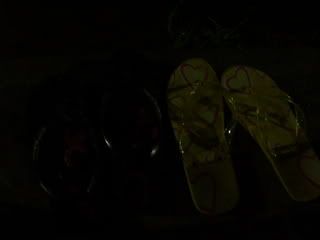 our slippers :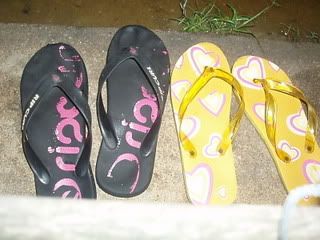 den, we went to playground to play .. cheryl was having difficulties in climbin the spider web. so, i guided her along. hahas !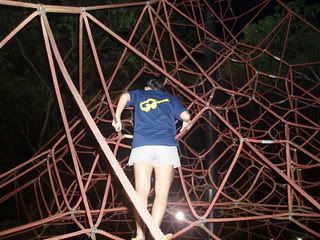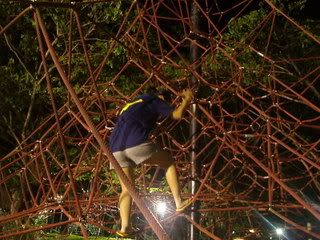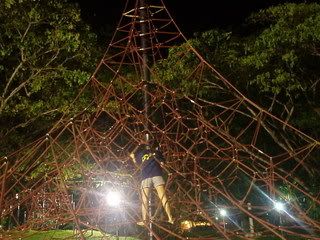 walk here and there. our legs and mind were dead . so went to sit down again ..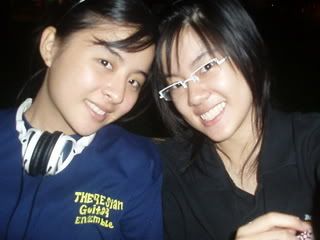 this pic looked kinda scary cos i didnt use flash. its actually showing us sleeping. hahas !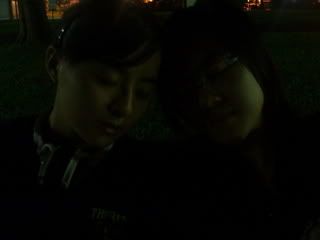 look how tired we were ? our eyes were still wide awake. tats the most irritating part. we actally overshot our way back. in the end we haf to walk a long route back. both of us were luffing at ourselves for being sotongs. lolls ! went back to the room. immediately, i lied myself on the bed while listening to music and realised jia en and jess were gone. guess they went out for a walk as well. wanted to join them bud i was thinking that mayb they had secrets to share wid one another also, i felt that jess is more open to en than me. so, i dun wanna disturb them. i could not slp so just listen to music and realise they are back and went out again. i was pretending myself to slp. lolls !
was hafing bad stomach pains in the morning ! arghhs. hurting so badly. was controlling my pain so badly that i curled myself up. tears were flowing down my eyes cos i cant stand it. wth ! all of them went theme park bud i didnt as i was hafing bad stomach pains. the pain lasted for quite sometime.
phew ~
meantime, i also dun wanna leave jess aloone too, i told them to go ahead without me. i felt at ease that jess is finally able to get herself some slp . so i slept for an hr as well till cheryl called me and asked if i wanna cycle wid them . i didnt wanna join them at first as i said i dun wanna leave her alone till en told me dat sandy and her sis is going back to the room. then, i decided to join them. the clouds todae were beautiful. cheryl did her blading.. while me, minnie and en were cycling . =D ..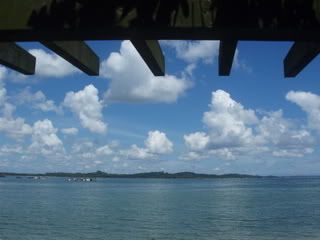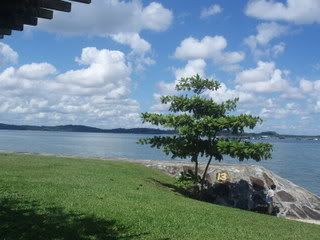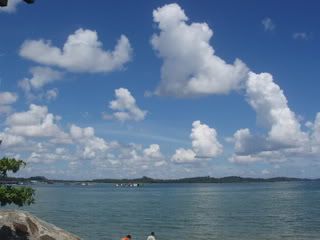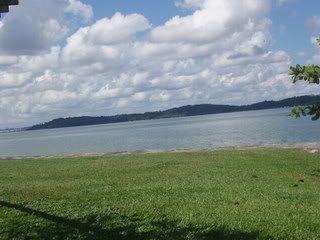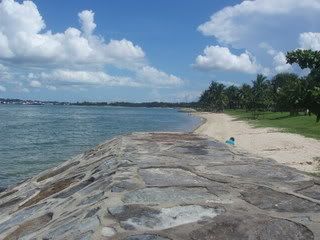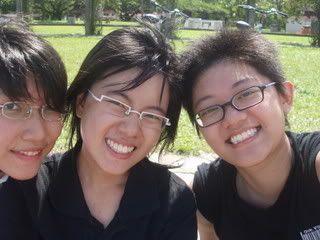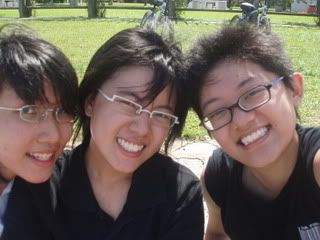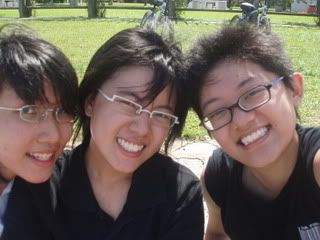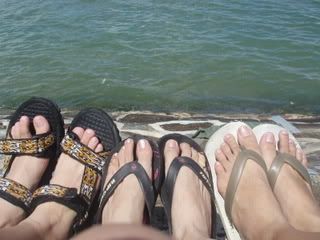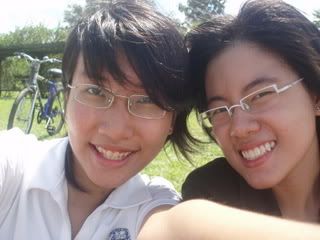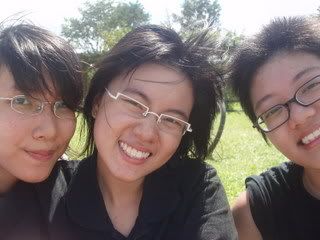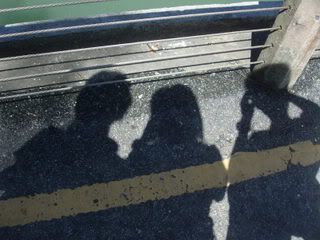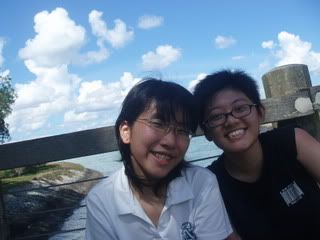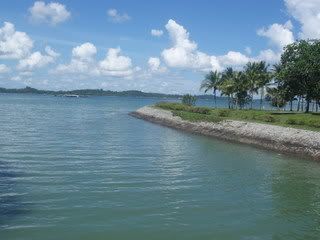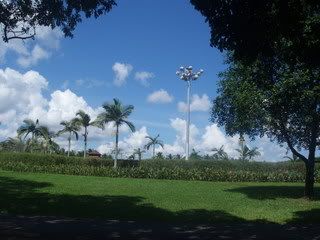 reached back to the room at 3 plus.. bathe and head straight home. i was dead tired. 1 hr of slp for the day and 5 hrs of slp the previous day. Zzz . slept in the train and bus. didnt get to catch a short nap at home at all. my brother needs my help in doing the wedding invitation card pics. oh well, stayed up late for that and also wanna chat wid jess b4 she goes for her hk trip. gonna miss her muchie !
to marmie ( jess ) :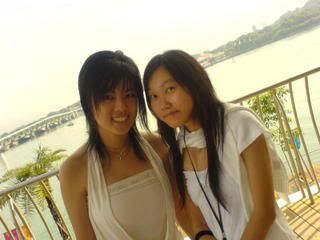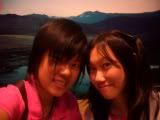 dun feel bad of wad i wrote as i was feeling emo alright ? though sometimes u hide urself under the blanket , pretending to slp. i noe that u are tearing. not just abit but alot. i wanna open up ur blanket and clear ur tears at times. however, i didnt dare to. i was afraid u may reject me and get more frustrated cos u dun wanna show it out . there were people around. i understand for that . so, all i cld do was to accompany u for the moment. u always said that u are alright when i msged u . u may bluff others bud not me. i noe u wasnt .
jia en understands u more than i do. cos u opened up to her more. always, i wld report to her at times, asking her to accompany u . i may not show concern on the outside bud inside it does. it realli hurts seeing u getting so hurt like dis. i said b4, i wld not let u suffer alone . no matter wad, i wld always be here by urside. dun feel bad nor feelin that u are creating extra burden to me . i dun mind. i realli dun mind. for the sake of my mother. its my duty to do so. special previlage. hahs ! if u wanna cry, just cry it out in front of me. dun hide anymore alright ? seeing u hiding wld leave a cut deeper in my heart.
time flies. tml u are leaving for hk trip. do take good care of urself. dun be angry wid ur parents anymore. i guess they dun mean wad they said. who knows, when u are back from ur trip, things wld just go back to normal yea ? dun think too much . i hope my conversation wid u in msn wld cheer u up alittle wid my little jokes. remember to bring back something for me okays ? call me too ! dun forget our promises ! heh heh .
thank you for being such a close fren of mine for 3 yrs. i shld thank god for hafing u . i love our craziness and arguments whenever we chat wid one another. we wld never haf peace wid one another even though we tried to. even so, it wld be for awhile. thank you for cheering up my day and bing there for me whenever i needed u as well . after todae, both of us will go seperate ways. i promise u this, our friendship wld never drift apart but remain close forever . i wld never ever forget u cos u are realli a great fren of mine. though we may not contact as often as b4 after ur sch starts . bud i wan u to promise me dis. if u haf any problems, just feel free to phone me or ask me out. i'll definately wld be there for u for 24/7 okays ? dun cry nor suffer alone anymore. dun break my heart anymore okays ? i wan the cheerful and loud jessica that i once knew. i dun wan a quiet and gloomy jessica. if this happens, i wld throw this jessica away . =) .
i love u marmie always. no one wld every replace u as my baobeii marmie. mwahhhhhs ! enjoy ur trip tml. =D.
come to think of it , todae is our last day getting together as a clique. i dunno when will we meet again.
message to my clique & four eyes clique :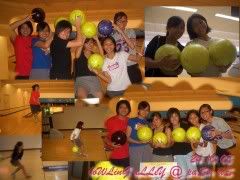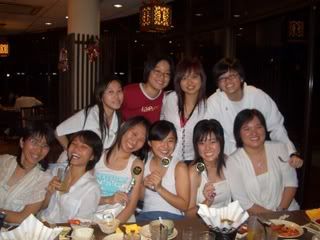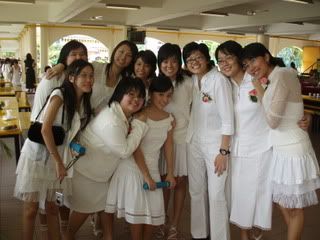 my dearest clique , i gonna miss u all so muchie after todae. i dunno when will we be meeting each other again . pls keep it contact and hope that we will remain as close as before no matter how busy we are okays? thank you for accompanying me for the past 5 yrs or 3 yrs . thank you for cheering me up wid all ur sweet smiles ! i love u gals loads. no matter wad, i wld not forget u gals. `mwahhs. thank you for everything ! the craziness moments we once had wld never be erase from my memory.
specially for my darling, jia en :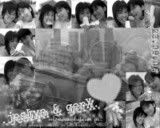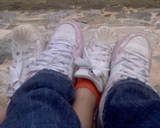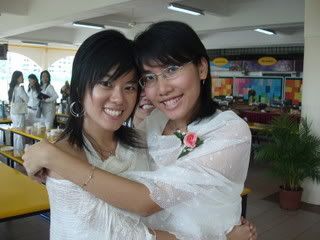 darling, thank you for look after jess during the chalet. abt 6 yrs of friendship, we had wid each other were basically memorable. thank you for being there wid me whenever i needed u. i dunno how many thank you to say to u, cos u are realli a great fren of mine. i thank god for it. after todae, i hope that our friendship will remain as close as before and never fade away .dun forget me or else i wld never forgive u. bahahs ! just joking.
i wish u all the best for the rest of ur journey. even though we may go different paths, but if there's ever one day you needed me, just ring me and share me ur probs okay ? dun forget that ! =) ..
loves u loads loads ! mwahhhs ! take care my fren ..
to moii darling, sister gennie :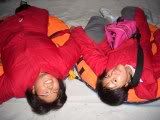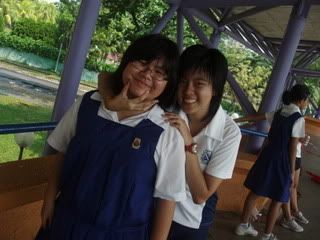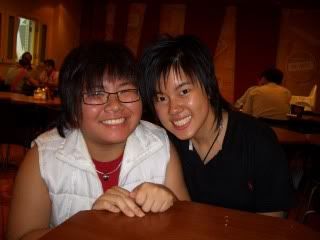 heys darling ! my bestie sister for 3 yrs. darling, i realli wanna thank you so much for making my day all along. wid ur cheerful smile & jokes, it just makes me end off wid a smile. though sometimes we may argue wid one another bud it wld just turn to laughter in the end. hahs ! dun forget me as ur fren cos i noe u wld b travelling to a far away place after taking ur results .
oh god ! im gonna miss ur laughter , the evil one especially ! ur jokes , ur drawing , ur poems, ur horney craps .. , the times when u always make me jealous whenever u haf something that i like & ur tickles to me.

pls take good care of my precious godson, travis.. cos i noe i am gonna miss him loads as well. i hope he is doing fine ! does he haf a gf already ? hahs. dun forget to invite me to his wedding okays ? lolls.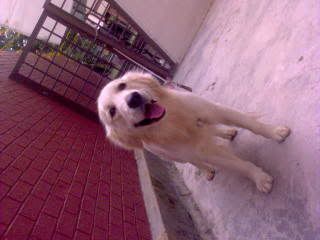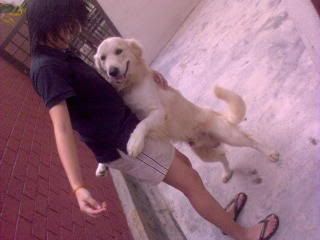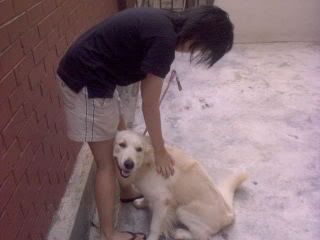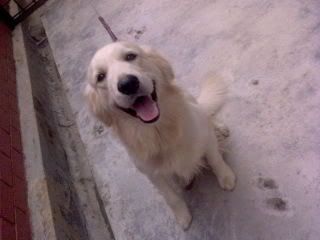 i wish u all the best in wadever things u do. pursue ur dreams & dun forget our promises we made wid sim yea ? our COMPANY ! hahs . do well in ur future studies & i noe u can do it. come back and visit us when u are free alright ? dun abandon us here in sg. hahs ! take care sister !

i am gonna miss the good old days.
`mwahhhs.. love u loads !