here are pics of cupcakes which i bought for jessica ytd. cute issnt it ?
: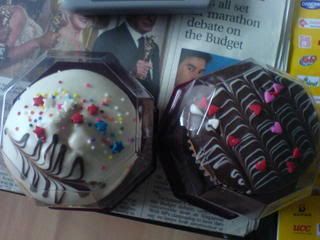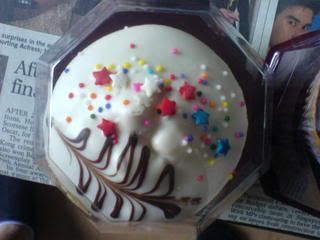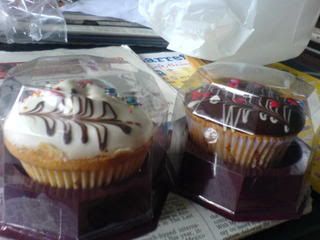 280207 , wed ..
its the end of the month ..
it's also the end of my work ..
i'm leaving all my lovely colleagues ..
i'm leaving this place ..
no more ..
meter reading reports ..
sorting out of D/Os ..
writin of giro letters ..
sending out giro forms ..
sending out of letters ..
photocopying papers ..
manual billing ..
BI billing ..
my signatures every end of the letter ..
creating credit notes ..
creating INVOICES
i'm missing doing these for now ..
i felt weird for not working tml . hahs . cos ive been working practically almost everyday. 5days a wk for 1 1/2 mths. now, it just flew past just like that .

reached office at 845am sharp . when i entered in , colleagues actually reminded me that todae was my last day ! well , they remembered . hahs !

them : xiaomei ! todae is ur last day hor ! you shld be happy . dun nd to wake up so early liaos .

in my heart i was thinking . i cant bare to part wid u all larhs .

used sharon's desk todae as she was on leave .
then those meter reader uncles came thought i was sharon & they were wondering why has sharon turned so slim & young ?
hahs .
all of us were luffing away .
i had my last lunch wid serene & belinda at amara . was hoping to haf lunch wid the rest bud ling & ho were too busy . =( .
shook hands and bid gdbye to them during lunch as they had to leave the office to attend some work .

them : all the best to you . remember to study hard okays ? ask jesslyn if she still nd temp staffs in future , ask her to call you . we'll definately welcome you back .
me : YEPS ! remember to miss me too okays ?
them : we'll definately do .
awwws ~ so sweet . my heart melt when i heard that . i was hoping that time wld passed slower. bud the sickening time just tick tick tick so fast . did meter reading reports , d/o and sending out of letters. i did my things fast and helped anna quite abit before i leave . its my last day so i just wanna do my best outta it .

530pm , its time for me to leave . i handed out my temporary pass to jesslyn .
most imptly ,
i shook hands wid the rest all them . bidding farewell .
all of them wished me all the best.
we exchanged contacts .

how lovely to receive a present from jesslyn & she sent me out . i was so touched ! it represents all of them . i almost teared larhs bud i managed to hold back . =)

the gift :



i got a BAG ! :

on our way out , i was disturbing jesslyn if still wants to hire me .
then she said other departments are finding temp staffs bud she will inform me again .
weeets ~ !
i was hoping very badly in my heart ,
" PLS CALL ME SOON ! i'll definately come back ! "

I LOVE ALL OF THEM .

from now onwards ,
i wont be hearing them calling me "xiaomei " anymore.
no more gossiping together during lunch time.
no more lunch-ing .
todae is my pay day for last month . so went to atm to check my pay amt then off to buy the egg tarts for my family. i once said before, once i got my pay , i'm gonna buy those for them . hehs ! i kept my words .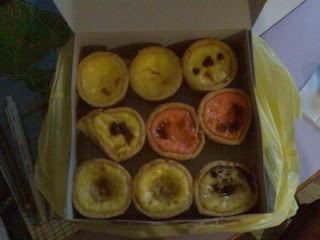 while walking, i was looking back at the building again . one last glance !

took 145 bus home .

my journey wid you ends here .
150107 - 280207 *
BYE BYE TO HR DEPT ; BILLING ; BANKING & FINANCE DEPT
BYE BYE TO 35TH STOREY

lastly,
BYE BYE FUJI XEROX !
the computer i used to work on :

my dept :



my temp pass :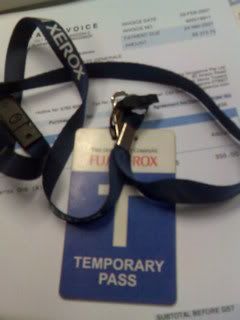 my notebook :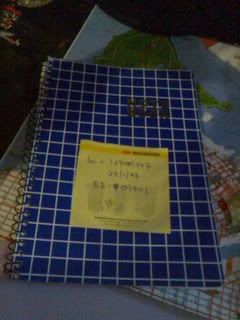 my notes :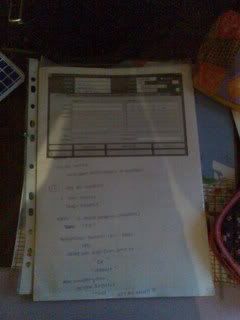 my office wear [ no longer wearing till i found another office job ] :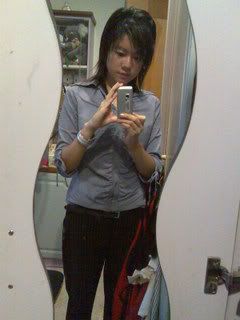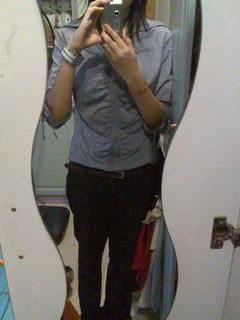 to all my lovely colleagues :
ever since i first entered the office, all of you gave me a friendly smile & treated me just like one big happy family . wid all ur fun , jokes & laughter everyday , it just made my day ! i'll definately miss the lunch-ing we had together especially the tymes whr we "tao pao" our food back to office . it made me feel so warmth . sitting & squeezing together around the round table , gossiping stuffs , its just reminded me of family reunion . you guys never left me alone . whenever there are things to eat ! hahs .
thank you ! thank you so much for giving me such wonderful memories we had together for the past 1 1/2 months . you ppl dote me so much . i just simply love you guys! time realli flies . todae is my parting day . i realli cant bare to leave all of you . well , now that you got my contact , remember to contact me often okays ? i'll definately pick up ur calls ! hahas .

from now onwards, i wont be hearing you calling me xiaomei anymore . it does feel a little uneasy though . becos i am so used you guys calling me that larhs !

hope to keep in contact soon .
call me soon & date me out for lunch or smth alrights ?
i am misshing you guys loads already .
I LOVE YOU ALL !
mwahhhs ~

to jesslyn ; my manager :
jesslyn , thank you for employing me in the first place. i ve never even felt a single regret coming to this company at all . thank you for all ur patience in guiding me even though i made mistakes sometimes . you even printed out notes for me just to get myself clear regardless how busy you were .

you're realli a great manager to me . i'll definately will nortt forget you .
keep me in contact .
i'll be waiting for the good news ehhs ?
hopefully they wld call me soon as well. hehs .

thank you for ur lovely gift .
thank you for sending me out .

TAKE CARE !

to anna ; my "shimu" :
hey anna !
i'm realli glad to see u back again after CNY . ur operation was realli a sucessful one. you are realli a nice & sweet person . dun haf to thank me for helping you up cos its my duty to do so . in fact , i shld thank you instead ! now without my help , you'll haf to work all by urself again . dun stress urself too much okays ? i ve done my best to clear as much load as i can. you haf just recovered . most imptly, i wan you to take care of ur health yea ? you need plenty of rest .
thank you for teaching me the steps i need to do !
thank you for sorting out the D/O properly todae to make myself convenient .

TAKE CARE OF YOURSELF !

BYE BYE EVERYONE !
HOPE TO SEE YOU ALL SOON AGAIN ..

once again ,
i would like to say ..
I LOVE YOU ALL !!
kiss goodbye*

" memories will always stay ..
& never be erased . "