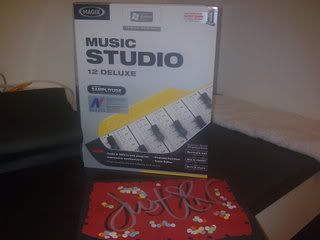 This was what I got for him . (:
HAPPY BIRTHDAY TO DEAR DEAR !
Classmates sang birthday song for him . Then after school , I took train down to Queenstown together with him to my mom's office . My mom wants to give him a surprise as she ordered a 800g brownie cake for him . I didn't tell him what was the reason . I just brought him there .
The moment we reached my mom's office , he was pretty surprised with the gift he received . And I let him try potato noodles.
HE LOVES IT !
That was the first surprise I gave him . Mom teared some papers & asked him to pick some numbers for her to give her some luck . Her favourite 4D . After that , mom happily went out to buy her number while Dear & I went to Vivo. I didn't tell him where were we going . I just told him to follow me wherever I go . He got irritated asking me many times because I would repeat my answers . Hahs !
Kept on msging Nic as he & Kel went to get dear's gift . So our plan was me taking him out while they get the present and then , we would meet back at Vivo again .
TADA !
Dear was surprised to see them sitting at the bench . (:
They passed him the gift and we headed to Modesto to eat. Nic had his seafood pizza, Kelvin had his lazan , Dear & I shared cheese sausage pizza. It tasted not bad ! Then all of us shared Calamari together . After ordering , the impatient birthday boy can't wait to open his present.
Weets !
They bought him a Lava lamp . xD
Dinner was pretty fun . Went out walking around . The guys were looking at phone again.
Rahhhs !
Somehow , it tempted me to get a new phone . But ......
$$$$$$$$$$$ !!
T_T .
Then all of us decided to return home due to some reasons.
" AHEM ! "
hahas. Not me , but the guys . =P . So , dear sent me to the bus stop & I went home . (:
Dear ,

I'm really glad I made your day . You know, you don't have to thank me because all the things that I have done was to put a smile on your face and to brighten up your day. Seeing you like this would make me happy too ! Even though this celebration was a simple one this year but I hope you still enjoyed yourself .
Happy figuring out with the programme I bought for you okay ? We shall look for the microphone next time to make it a complete set out of it ! (:
Once again , I wanna wish you

HAPPY BIRTHDAY

!
I LOVE YOU !
- mwahhhs .