YES YES !!
Cny is here ! I know I haven't been updating recently. Been really busy nowadays. So, I won't be updating as frequent as before anymore.
GONG XI FA CAI EVERYONE !

DAY 1

DAY 2

DAY 3

SOMETHING THAT I DID FOR MYSELF

TODAY

It's my Dad's birthday !
HAPPY BIRTHDAY DADDY !! (:

Went to Wenting's place in the afternoon. Dear didn't went with me as he was having diahorrea since last nite. So, I told him to stay at home instead. I stayed for awhile and then went back home. Relatives are coming over to my place.

Then dear msged me saying that he wants to come over as he was feeling better. Waited for him downstairs and brought him up. This is the first time he actually went up to my place alone. I'm glad that it's a good start. The kids had fun with him , some of my relatives communicated with him . Finally , here comes the celebration !!

SWENSENS BIRTHDAY CAKE

WITH HIS FAV MJ TILES
( look at the tiles carefully )

MY HAPPY DAD

ONE BIG FAMILY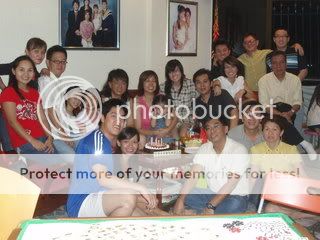 DAD INITIATE ME TO TAKE FOR HIM

He was happily opening his presents. It's been such a long time he has last received presents. Look at how happy he was. Hahs.

It feels so nice to have a big warm family . I blessed to be born in here. (:

" Just remain like this .