Thanks everyone for showing your care & concern ♥
Operation was a success ! According to the doctor, she said that my mom's wounds were neat & clean. Really thankful that there were no side effects on her. Was really worried she will be vomiting the whole night like before again.
Woke up at 6am. Mom was admitted in GleanEagles hospital at around 8am & spent the whole day with her being her private nurse. HAHA!
Though was tired as both my mom & I slept for 2 hours only as she wasn't feeling really well the day before. But that doesn't matter as long as I'm there by her side. (:
Guess what?
Look at her photos below. She's so happy when she received flowers from her "God-Son" & asked me to take photos of her. How cute can she be? HAHA!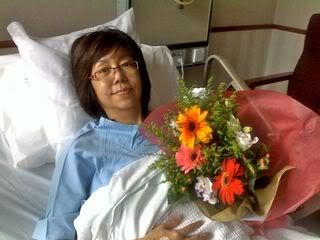 AND THIS LOVELY CARD THAT MADE HER SMILE THE WHOLE DAY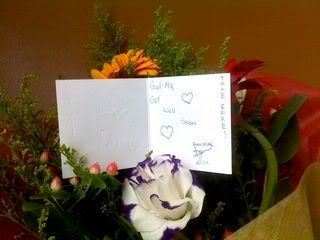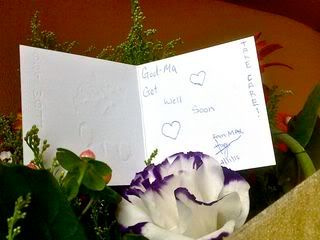 Looking out the window at around 6pm plus. The sun was setting & captured this beautiful sunset. This shows that, haze is over !!! & I'm looking forward to sunset shoots one day! (:
One thing I do not like about E71/Nokia phones is their camera functions! The quality is bad ! I used it only when I do not have a choice. =P
I was going "Wahhh" ~~ When I stepped into the washroom & saw this.
Felt as if I was in some kind of high class hotel. Look at the packaging! It's so nice!
But of cos, needless to say .. this is a private hotel & the charges ain't low at all! Luckily mom's hospitalization fees can be claimable. Otherwise....... HOHOHO !
Anyway, I'm really glad that everything went well & thank god for the blessing. My mom will be discharged tomorrow! :D
"明知道期望不会实现。
为什么还选择期望来折磨自己?"