WISHING A
MERRY X'MAS
&
HAPPY NEW YEAR
TO EVERYONE !
guess wad ? i haf fallen sick during x'mas eve. thats a very sad news ehhs ? my eyes were puffy when i woke up . i do not know wad had happened . then came vomitting in the afternoon after eating pear . i felt terrible after that . was down wid fever not long after plus hafing a terrible headache . that's the worst part of all . slept in the evening till 7 plus & realised that all my relatives haf arrived . so went out to greet them & had dinner . took my medication .. and off to slp again . i was feeling very lethargic . i starting feel very cold .. covered myself wid blanket tightly and wearing my jacket to keep myself warm .
woke up at 10 plus . felt much better after my slp . i gave myself a thought that i cant be so weak . i haf to feel energetic ! todae's is xmas eve !! its the day to enjoy together & here i am feeling so sick isnt the right mood. so, i adjusted myself.
bahahs ~
brought the kids down to the playground to play sparklers !
my two cousins :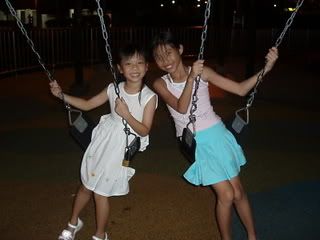 me & van doing retarded faces :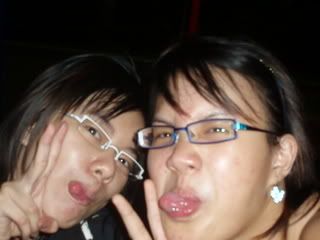 van & jean :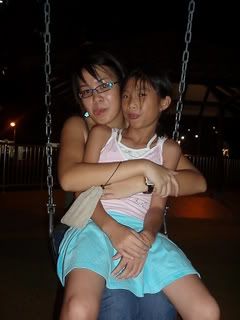 kailin & me :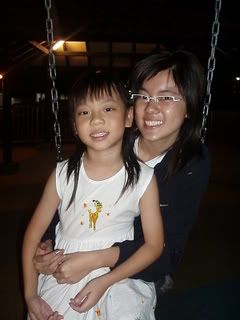 van & kailin :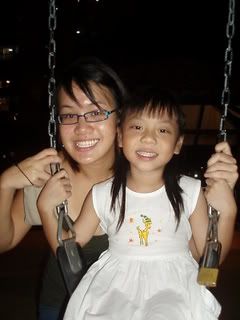 whee ~~ :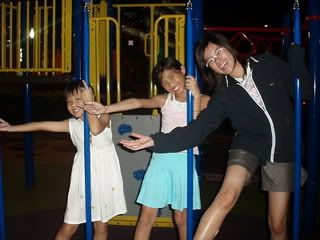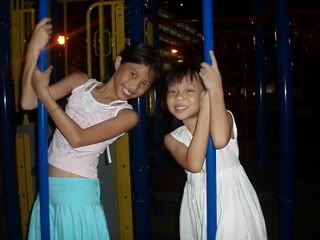 sparklers time :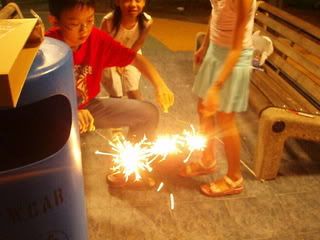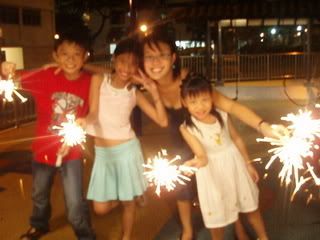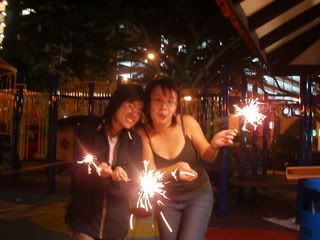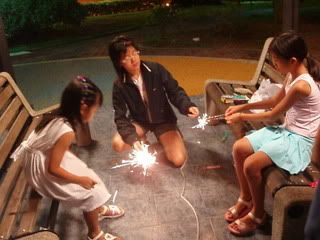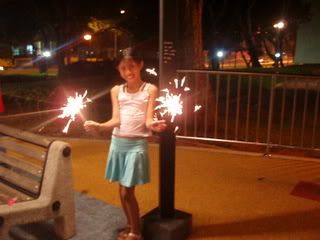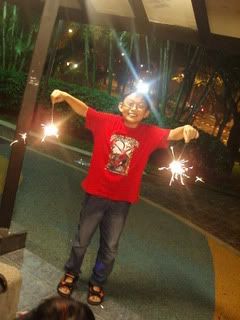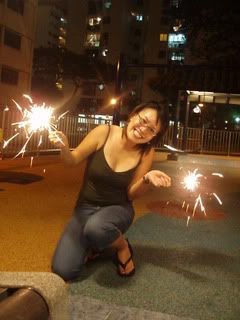 its 1130pm already, so we went up to prepare for the counting down of xmas ! then we gave a bday surprise to winnie jie as we can't celebrate wid her on the 28th dec . so, we took this opportunity instead . =)) .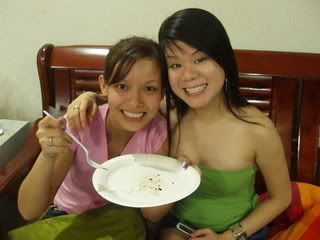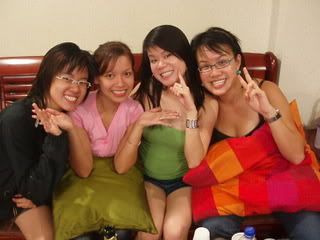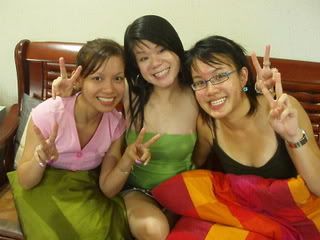 justin being nanny for the nite as he & weilin were sleeping in my rm . however, he was awoken by the noise . therefore , he had no choice bud to carry her out . he looks so much like a
NANNY
! hahas .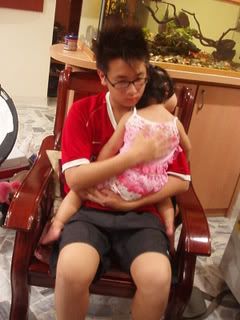 not long after , jia en called me.. tellin me that she has reached .. followed by marmie. omg ! i am so excited okays ? i went down & happily sang them merry x'mas song. lolls. they were luffing away . saying that i am siao ! heys ! bud at least you gurls luff okays ?!!! so we went playground & had a nice chat b4 going upstairs. so sweet of marmie to haf gave me her xmas pressie . plus, there is a card inside . her x'mas card realli touches my heart. i wanted to hug her bud this woman go and reject my offer.
arghs ~
lolls.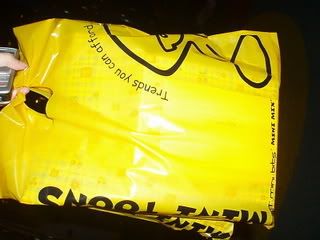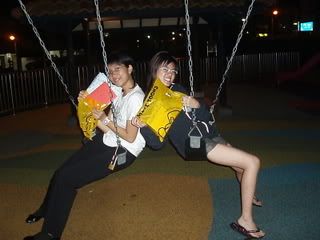 went upstairs after a while .. just in time, they were sorting out pressies. i got mine too ! yays ! this yr wld be getting very little as all of us went broke .. there are simply so many events coming up . wad realli touches me most was van's present. i was basically surprised when i saw the items in the box. they were $100 plus worth of
ITEMS
! this is the first time me receiving this kind of items in my life ! she realli touches my heart .
THANK YOU WEE WEE ! I LOVE YOU TO BITS
! you are pampering me ! hahas . i felt so bad that i didnt get her anything as she didnt tell me wad she wants till later. gotta get that gift fast !
then, i opened marmie's present wid jia en . we were arguing wid each other abt the cards . coz hers was bigger than mine. blahs blahs blahs .
@#$#@.. !!
all the craps ! photos wld be uploaded after im back from my trip . all my relatives went back home at 2am plus .. know wad ? the 3 of us together , took 124 ++ photos .... scary ehhs ? bud we realli had lotsa fun ! we stayed awake till 4 plus and sent jia en off home . then, me and marmie walked back home. she uses the comp while i went to slp as tml i had to attend xmas church service as promised to shi hui & dar .
woke up at 730am todae .. to bathe . get rdy .. and off to tiong wid jess at 845am .. so nice of marmie to haf pei me till shi hui came wid cab to tong bang me to sg expo.
THANK YOU MARMIE !

i thought i haf recovered from my sickness..never did i expect it to be back once again . i began to get the feeling of puking when i was in the cab.felt uncomfortable again and started to ask shi hui for sweet to get rid of that feeling .
dar is not joining us for the service as he was realli tired. poor boy ! so im going over to his place after service . =) .. i realli love the service todae. it was realli fun & hilarious when the 3 emperors from different countries came to talk their own language. it laughed the hell outta me. hahas ! wad realli attracts me most was the candle light part . i looked pale in all pics todae. hope ya dun mind .. hahs !
the whole place was realli beautiful ... !!
me & hui: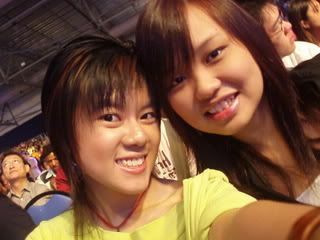 hui & her mom :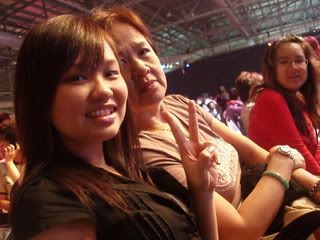 me, hui & kat :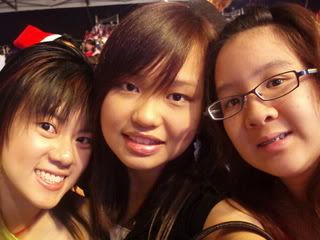 the candle: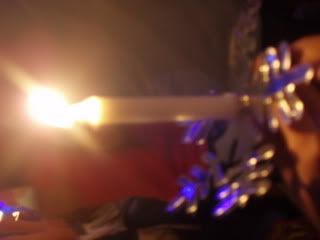 the view of the expo wid lighted candles :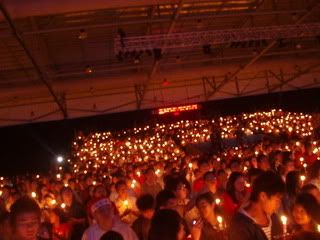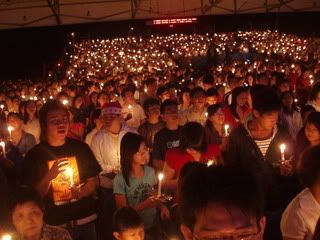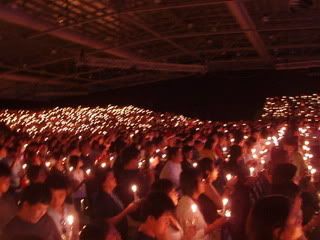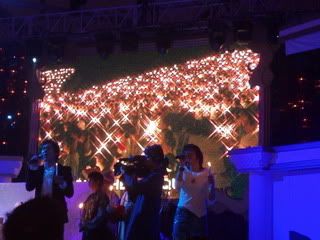 us :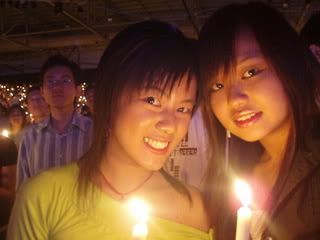 beautiful isnt it ? service ended at 130 pm. so sweet of dotter shi hui & her cell grp members to given me cookies and sweets . they were so nicely wrapped. oh my ! hahas ! i love it . i dun even bare to open them up . lolls ! saw nana and aiyue too. passed them their xmas pressie as well. we took a snap shot .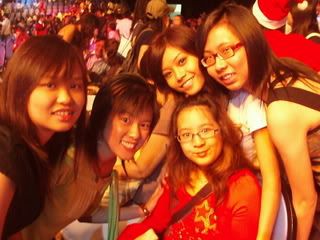 me, nana and aiyue went off together. we went to the mrt station together . i alighted first and off to tampines to find dar . felt quite sick during the journey ! all i can say is that the sweets from shi hui simply saved my life !
LAKEROL FOREST BERRIES
flavour. lols !
i was bored during the journey so called jia en to haf a chat .. i felt kinda nervous when i reached dar place and i had no idea why was this so .. felt kinda goggy as well. took the lift and went up. thanks jia en for calming me down. hahs ! that toopid pig! press doorbell & rang him there wasnt any heal so i went downstairs and waited instead till he called and i went up . when i went inside to his rm. first thing that struck my mind was...
"WAHHHS ! WHY BECOME SO MESSY ? ! "
hahs. the rm was so much like garang guni larhhhs !
HORRIBLE MAN !
lolls. me & dar haf made a pact wid each other that we wld do a spring cleaning during jan together in his room. see! so nice of me. hahas ! =P .. came to realise that my fever was back again though i felt a little okay. i did not see any wrong wid me till dar told me .
FINALLY !
this day has arrived that i'm able to gib him the present. his gift is like so heavy okays ? at least i am able to clear the load for now. hahs ! i hid the shirt underneath the box . when he saw the shirt, his reaction was ,
" YOU BLUFF ME ! "
heh heh heh
! felt so happy that he wore that when we went out todae . bud that shirt looks kinda big for him . making him to look fat ! bahahs ~ anw,he already is.
lalalals ~
went out in the evening and this guy left me in interchange alone coz he wants to get pressie for me . he doesnt wants me to see . so i waited! when he returned i was wondering wads that containing in the plastic bag . i kept on questioning him till the traffic light. he showed me . i was like OMG ! he's another one who touched my heart . he bought me this lovely catcus ! it has a meaning in it .
this was wad he told me :
the reason for me buying this is becos catcus is able to last for a long period of time & i hope same goes to our relationship as well . so for now, it depends on you on how u are going to take care of the catcus .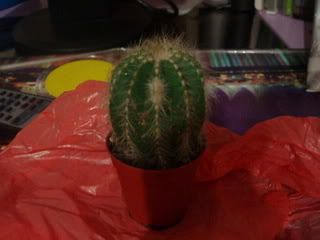 my reaction was -_- .. when i heard the last sentence. i was like
OH MY TIAN !
i haf never ever kept a catcus in my whole life ! i dun even noe how to take care of it and this guy asked me to do research on it somemore.
arhhhhhhhhhhhhhhs ~
oh my. gotta cracked my brains for the moment bud nortt to wry. i wld take care of my precious baby catcus no matter wad ! =) .
we had dinner at century square . again, i did not haf the appetite to eat . felt so much like vomitting again. i was forcing myself to eat even though i did not want to as i haven't been eating for the whole day . i just had to eat in order to gain energy right ? so yupps ! i ate the least for the day. sigh ~ its not my usual self. felt so bloated after eating that we decided to walk around the shopping cnetre and found a box to put in the catcus so that it wld not poke me while carrying it .
then, we bought this from mini toons. lolls ! its cute larhs .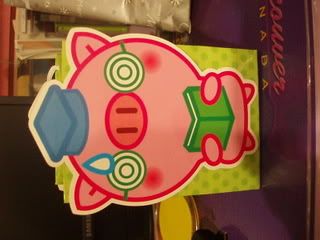 continue to walk round and went off at 8 plus. dar sent me home after that . =D ! wanted to take photos wid him bud decided not to as he was darn tired plus i wasnt feeling well. so forget it. =) ..
now, i am still packing my stuffs for korea trip tml. gotta reach the airport at 9pm ! i wil be back on 2nd Jan 2007 ! therefore, i wont be updating my blog till that date . i am so gonna miss my ppl
LOADS
!!!
messages to ppl before i end of this entry :
to my dearest dar :
hahahs ! you won't be calling bear for 7 days. hopefully u cld cut that habit when i'm back ! =P . dear, i realli wanna thank you for buying me that gift coz it created a special meaning behind it. i promise you that i wld take good care of our baby catcus and treasure it no matter wad . know something ? i haf done my research for taking care of it . my hmwork is accomplished. hees !

though i may not be in sg bud my heart wld always be wid you . dun overtire urself during work . try to haf sufficient rest for urself if can okays ? i wld be misshing you loads when i'm away.. wonder if you wld feel the same too. hahs ! nort to worry , i wld definately buy u stuffs back . if there's anything impt , just let jia en or nu er knows or you may also sent me an sms / email alright ? i wld checked them when i'm back ! =) .

Will phone you before i fly & toouched sg okays ?
dun forget our mission during JAN ...
TAKE CARE OF YOURSELF !
love u always dar !
mwahhhhhs ~
to marmie :
i realli love the card and pressie u gave it to me ! thank you for the gifts ! thank you for keeping ur promise on xmas day. i realli enjoyed my time wid you . i was shocked to hear that we took 100 over photos. that is my first time taking so many photos within one day & its early in the morning. plus tonning wid you till 1/2 morning. hahs ! take good care of urself alright ? for the next 7 days, i wont be chatting wid you online on msn. no more arguements wid yea . so, you shld be glad that you wld be hafing world PEACE! hahas . i know you wld missing me darn badly coz i am feeling the same too ! send me the photos when im back ! REMEMBER THAT! those photos are precious to ME ! =)) .

OUR NEXT OUTING WLD BE NEXT YR 2007 !

any problems just let marmie know alright ? dun keep it to urself arhhhs. u promised that to me b4 . wo zui fang xin bu xia jiu shi ni le .

one more thing , dun forget to check out the white nike bag for me okays ?
once again, TAKE CARE OF YOURSELF !
LOVEESSSSS !


to jia en darling :
25th dec was a realli memorable day for me . coz the 3 of us haf finally spent so much time together and we haf accomplished our promise for that day . thanks darling for accompanying me throughout the journey ytd. you did calm me down . hahas ! in fact , we were accompanying each other larhs. =) . i wld be misshing you two darn badly . and hear this okay ? i wld be bringing my phone along containing the two of you photos so dat whenever i miss you two i wld just take a look from my phone. BE TOUCHED FOR THAT. hah.

you too, take care of urself . dun overtire urself as well . becareful during work okays ? will msg u when im leaving . help me take good care of jeff & jessica . this is a mission for you for the next 7 days. heh heh . THANK YOU VERY MUCH !

wld definately buy u a pressie durin the trip .

LOVES !
TAKE CARE ALL ! hahs ! after typing msges for u guys i really felt so unbeareable to leave this place .
tralalals ~
for those that i did not sent msges to , not to worry i'll miss u guys badly as well ! hees ! i know you guys wont miss me bud the gifts only ! lollls ! jus kidding.
gotta end off now and continue to pack my stuffs ! =) .
TATA -