Sent my bf to work , met up wif my two darlings . (:
Both were late . Only I was on time .
Hahs !
Every destination we landed up to , there's always her in the picture . (:
Alright , it's getting late . Better leave & proceed to bugis to get our stuffs .
You know something ?
We can never leave without taking photos . =P
CITYLINK
Does anyone know where to buy shades like this ?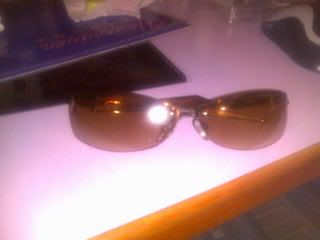 Because my face only suits this kind . Thats why it's pretty hard for me to find a suitable shade for myself . Last stop of the nite , we returned back to Esplanade to chill for awhile and headed back home .
-------------------------------------------------------------------------------------------------
Again , I sent my bf to work & off to meet my darling Sim . (:
Cute isnt it ?
Our godson , TRAVIS .
The moment we reached the top floor ..........
This was what we did ...
She looks constipated . =X
Gen gave us the wrong info by telling us that food will be provided only for dinner but not for lunch . So in the end , we called Macs & ordered our usual .
While waiting for our food arrival ...
We were too engross with photo-taking to the fact that Gen's maid had to pay our Mac bills for us first . So paiseh . =X
Watched CJ7 while munching . I simply love that character . Its so adorable ! How i wish I have a pet like him ? Hees .
We were bored after the movie ended . So Sim was playing Sims 2 .. Creating a family of the 3 of us while Gen was teaching me how to play this Drum game . Pretty fun actually .
Not long after , I took over playing Sims 2 while Sim went down with Gen to the study room to try out the massage chair .
Felt so bloated after dinner . The 3 of us climbed up again to cont our Sims 2 .
Time flies , it was already 9 plus . Another grp photo shots before we leave . We rarely meet up now . So , taking photos are very important to us .
I did the stupidest thing ever ! Mistook the bus 106 as 188 & I stupidly board it . Ended myself realising unfamiliar routes . Alight myself in town eventually . Anw , it wasn't bad to walk alone in town . It was pretty quiet & I kinda like the feeling . (:
I can officially announce that I have O.R.D from my 3 months attachment course !
7 weeks in Charcoal , 6 weeks in Rosette .
Well well , I'm pretty disappointed with my overall marks even though it was a B or B+ . I just wish it was higher especially my practical exam . I did badly for my timing . Anw , it's over ! Shall not dwell on it anymore .
I'm pretty honoured that I'm working on this day because our team was helping out in the National Culinary Olympics team members to prepare them for the next competition in Germany if I'm not wrong . It was an experience . Saw many many chefs ! (:
Everything ended at 11pm . Some things screwed as there were only 3 servers in the function room serving the TP students which consists in total of 26 pax . All of them came in together . Thats the busiest part of all .
GOODBYE TO MY TRAINERS & SFTS !
GOODBYE TO CHARCOAL & ROSETTE !

Thank you for everything . This attachment really make me grow . I saw both sides of it . Be it good or bad , I learnt it all . xD
" We'll meet again, someday ... "
-------------------------------------------------------------------------------------------------
280608 , SATURDAY
As usual I sent my bf to work & off to meet my darling Sim . Sad to say , Gen could not make it at the very last minute but yeahs , we still love her . Plan goes at usual , we had our lunch together at Yoshinoya & off to KBOX .

THE ROOM

SOLO
THE BOTH OF US
Sim says " Drinking coke can also make you drunk ! "
Don't believe it ? Check this out !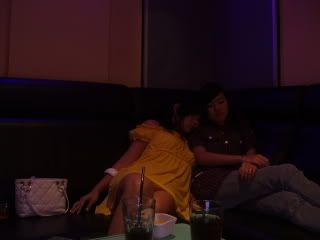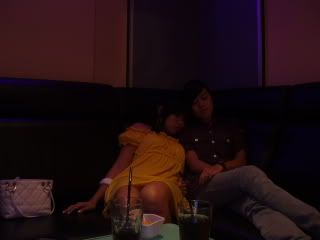 We were having lotsa fun in the room . Never serious singing . Hahs ! Who cares ? Its only us the room . Most importantly its the fun that we had . (:
Left the room at 630pm . Oh god ! It was so careless of me to have left my wallet and hp on top the tv . Quickly returned back to the room & thank god no one took it. Phew !

Next destination : ESPLANADE
LOL !
The moment we stepped out of Marina , Esplanade was filled with ppl . Ah yeahs ! We forgotten there's NDP rehersal . So fireworks will be put up . In the end , Sim & I avoided those crowd and walked to Clarke Quay instead .
We saw planes flying here and there . Not bad ! There were some changes made in the performance . We saw this ...
HEARTSHAPE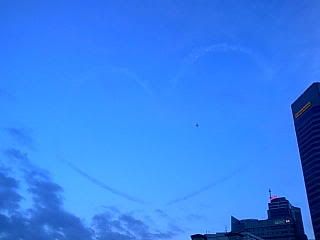 We walked throught this tunner . I love it ! Wanted to take some photos in there . However , the place was crowded . So , lets just forget it .
I still remember we used to say both of our marriage plans would be held in Fullerton Hotel . I wonder if our dream would come true. (:
It was so nice of the caucasian female to volunteer & take photo for us .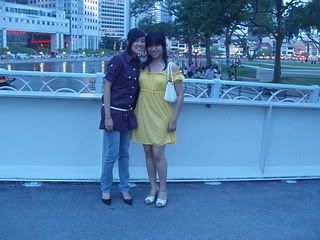 Alright , back to our photo taking session .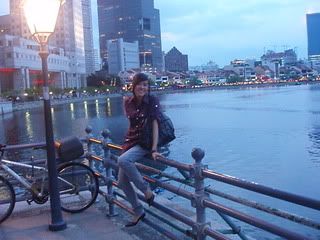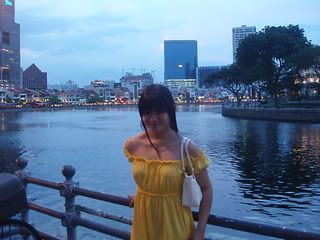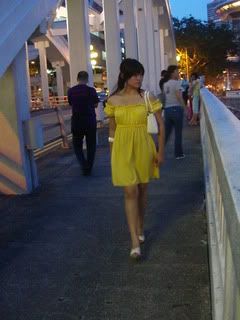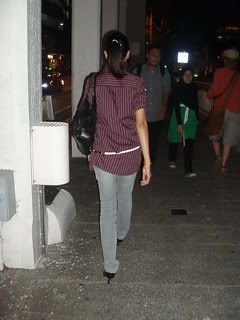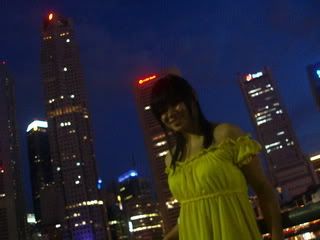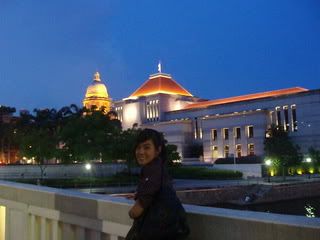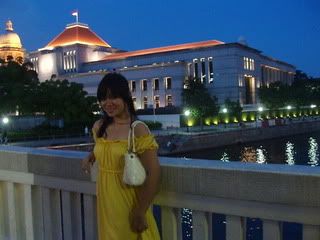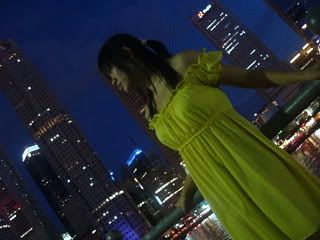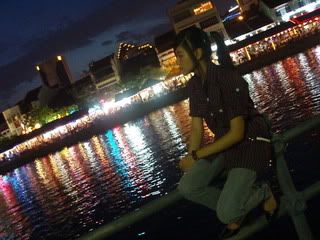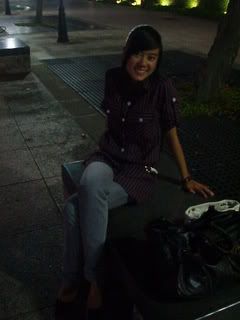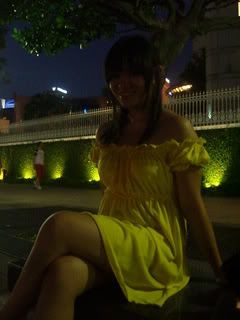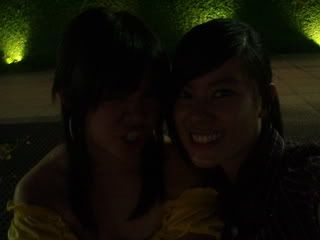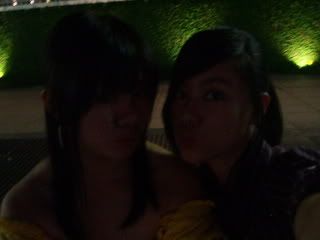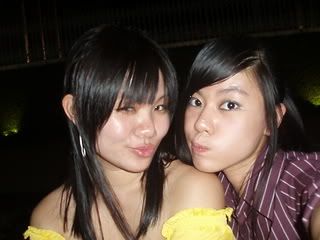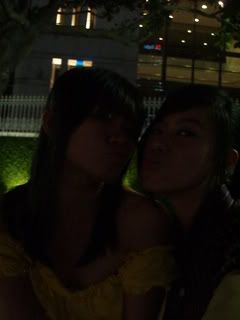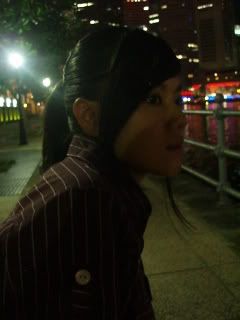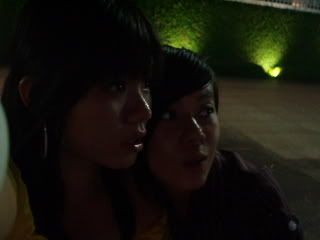 Its 8pm & we were still stucked at that location taking photos , forgetting our dinner time . =P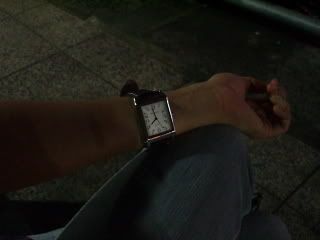 OUR SHOES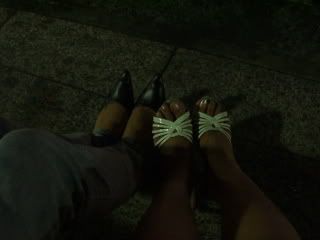 We were trying to do a couple shot for this . However it failed .
But it still turned out nice though .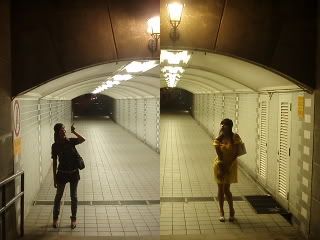 Finally can take photos in a quiet tunnel .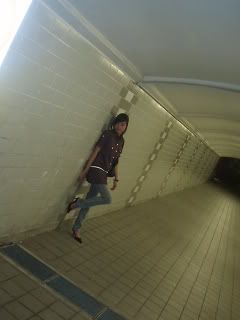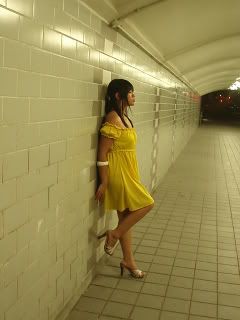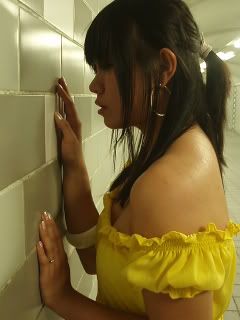 Sim says I look more like seducing the wall than being EMO.
LOL !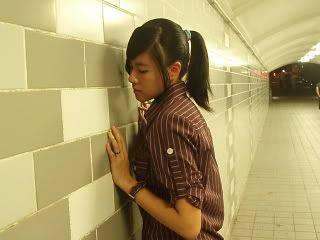 Done with all our photo taking ?
Its time to walk back to Central Mall to have our dinner at Subway .
Took 145 bus back together .
That ends our night .
Hope to meet you soon Darling ! MUCH LOVES .
" Friends come & go ...
But I know , you girls are one of the few that will stay . "