didnt attend sch todae as i had to stand 5 hrs in the kitchen . mom and dear were worried . i was feeling afraid as well . so i decided to rest at home . went with mom for acupunture at around 2pm .
todae was really
painful
. it worse than the previous times . he exert alot becos he did both acupunture and rubbing together at the same time . for this time , i teared and perspire .
yeahs !
both together . really
painful
!
SIGH !
i guess i am having phobia of going already . the moment i stepped into the clinic , my heart would just beat fast . i was really scared . not of the needles but the pains that is affectin me .
GRRRS ~
after acupunture , my leg was in real pain . i cld not even put flat . so mom and i took cab home . waited for michelle to arrive becos i asked her to pass me my books .
THANKS

mich !
she came over at 445 . then we took a cab down to buy cake for dear's birthday . its his actual one todae . after buying we went to meet wenting and jaslin . both of them so poor thing, they were perspiring like hell cos they had to rush down as we were planning to surprise dear . they ran from jaslin's place to the mrt station .
once they reached , wenting called aikho pretending to feel anxious and said she fell down on the escalator . she was bleeding badly . so , she needs aikho's help . dear , nic and aikho were together . they walked over . wenting still sat on the floor . act act as if she was in pain .
hahas !
can be hollywood actress le larhhs !
when he came ,
TALA !
sang him birthday song .
hees
! to think he actually believed it .
funny
! dear dear was feeling so surprised . after that , we went to mac to chit chat and ate the cake together as well as passing the present to him .
nic and the sisters bought him lambo model . lucky i didnt buy . i almost wanted to buy that .
PHEW
! he was very happy . well, its nice seeing him smile ! =)
i was feeling very tired during that time so i did not really chat much . i had no idea why do i always felt so tired after acupunture ? mayb i used up all my strength ?
hmms ~
no idea . left the place at 7 plus and we took a train back .
rahhhhhhs !
my leg is feeling so pain again . a little electric current feeling . i cant really put straight again . im mostly dragging myself where i go ..
T_T .
hope that i wld feel better tml . please get me well .
anyway ,
HAPPY BIRTHDAY DEARIE !
i had surprised you twice ! hees .
LOVE YOU LOADS ALWAYS ..
my journey with you will never end .
it will go on and on till the end of time ......
MUACKS !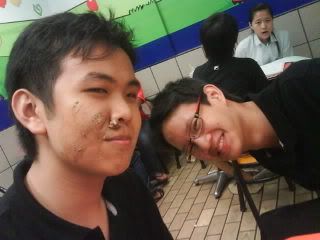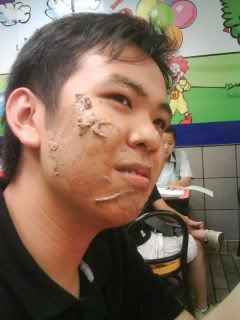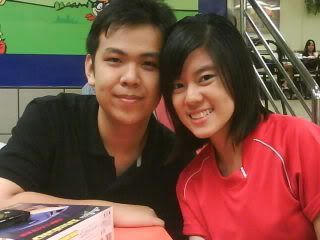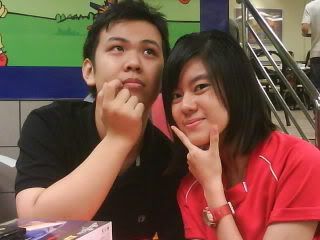 " Go away ...
Get this pain off me . "